My name is Lori Lightfoot and I'm running for mayor of Chicago.
In order for Chicago to remain a world-class city, we need to create a new path. A path in which fairness and inclusion are our guiding principles. As our mayor, I will respect the experiences of all Chicagoans and ensure our city government works to uplift the quality of life for everyone. 
We can, and we must, do better. We must do better to address the taxes and fees that burden middle- and low-income families. We must do better to halt the declining conditions of our neighborhood schools. We must do better to change an education policy that does not view parents, teachers, principals, staff or other stakeholders as valued partners. We must do better by insisting on a comprehensive plan to invest in families and neighborhoods, and to end the violence that plagues too many communities. We can do this, together. This is my commitment and my promise to you. Please join me.
Lori's vision for Chicago
Schools:
Forge New Priorities
The cornerstone of our education policy must be to improve the quality of our neighborhood schools. These schools are not just places to learn, they are valuable resources and places that should be a source of pride.
Public Safety:
A Comprehensive Plan
Too many children wake up every day, and go to bed every night, blanketed by a fear of violence. That fear has become the most significant factor in their young lives. We can, and we must, fix this.
Neighborhood Development:
Invest in Communities
All over Chicago, people feel the effects of an "us versus them" style of governance. Investing here, and not there; providing advantages to some, but not others; listening to a few, but ignoring far too many.
Lori's Plan to Transform Chicago Public Schools
A world class city needs a world class public education system. Working together, we will create a pre-K-12 school system that provides equal opportunities for students, regardless of income, address or background, and which erases the achievement and graduation gaps between students. We will develop a diverse, vibrant, skilled workforce that fuels growth in every neighborhood and leaders who will shape Chicago's future. 
We will do this by transforming Chicago Public Schools into a system where: 
Structural, racial and other inequities disappear 

Communities and stakeholders are included in decisions regarding schools 

Every neighborhood has high quality elementary and high schools 

Children enter kindergarten at the same level as their peers 

Schools are staffed with fulltime nurses, social workers and librarians 

Kids receive trauma-informed instruction and mental health services 

Chicagoans have the opportunity to elect an independent school board 

CTA is more accessible for qualifying CPS students 

There are expanded career pathways for high school students 

The Community School Initiative continues to grow 

CPS recruits, develops and retains highly effective and diverse teachers 

All students have access to after school programs and experiences 

Diverse learners receive the resources they need to learn and succeed 

There is accountability in CPS' central office 

Chicago Public Schools are funded
Chicago mayoral candidate, former Assistant U.S. Attorney, and former Police Board President Lori Lightfoot released the following statement in response to the sentencing of Jason Van Dyke in the murder of Laquan McDonald. "I feel sad and frustrated," said Lightfoot....
read more
Come support #TeamLightfoot tomorrow! Community Renewal Society Forum, 4849 S King Dr @ 10am RSVP here ➡️ https://t.co/oIHsIiSeaW Faith and Politics Forum, 3658 S Wentworth Ave @ 5pm RSVP here ➡️ https://t.co/5VNnRuWWCL https://t.co/KLz8NGiIAd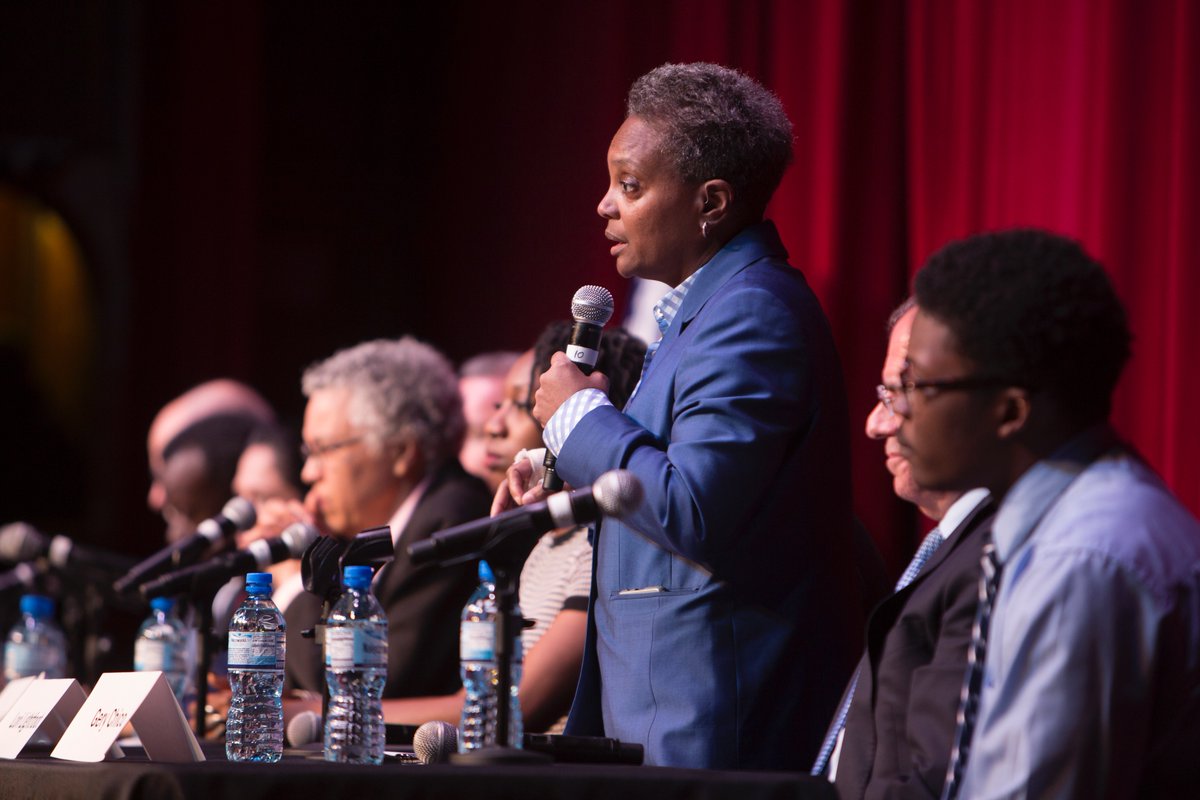 "[Lori Lightfoot] does seem like the antithesis of Rahm Emanuel—calm, focused, principled, and independent. The question her campaign poses is an old one: is Chicago ready for reform?" https://t.co/yp9GAmeK5P
RT @ylimecol: So after yesterday's town hall I can promise you that @LightfootForChi is the only option for Chicago Mayor. She is committed…
PAID FOR BY LIGHTFOOT FOR CHICAGO